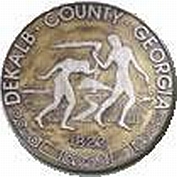 The DeKalb County tax assessment notices are out and dated May 29, 2012. The deadline to appeal your 2012 value is July 13, 2012. The tax amount at the bottom of the notice is an estimate based on the 2011 tax rate and is subject to change. The DeKalb County tax assessment notice, as is the case with all Georgia assessment notices, is not a bill.
Wow. Just like last year, there are some wild and wacky value changes in DeKalb County tax assessments. Values dropped almost 50% on my street. Across the way values declined 17%, and just south 1/2 mile values were increased approximately 20%. A similar situation was seen last year at this time. Check that blog post here. Although the DeKalb County budget is in disaray it would be nice at some point if the DeKalb County tax assessment department gave us the sales information that they are using.
Take a look at the new Fulton and Gwinnett County Assessor's websites. There you can look up your property description and value information and also look at the sales data that the assessors used to establish your value estimate. Although some county employees think that giving the taxpayers more information is just asking for trouble, I don't see it that way.
If you give the taxpayers access they can help the assessors correct misinformation. Initially there may be a rush to appeal and get property description information corrected, but eventually, the more transparent the mass appraisal process is, the fewer appeals will be filed, in my estimate. If you need help getting your DeKalb County tax assessment reduced, contact us!