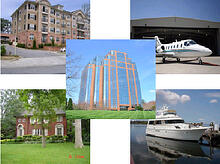 DeKalb County tax assessments will be mailed on May 29th according to a report by the AJC. This will make the tax assessment appeal deadline July 13th. The DeKalb County Tax Assessment office reports that values (assessments) dropped six percent for the 2012 tax year. There continues to be value weakness throughout the Atlanta metro area.
The DeKalb County Board of Equalization (BOE) continues to struggle under the weight of the 2011 tax assessment appeals that are still unresolved. I was just engaged to do a hearing on June 6 for a homeowner that cannot attend their 2011 hearing. Anyone of right mind would not want to attend one of these hearings as it is first come, first served, and too many hearings are scheduled for each morning or afternoon.
Those who are familiar with the DeKalb County Board of Equalization's new proceedures get to the start of the hearings at least one hour early. Even then there is no guarantee you will be heard early. It depends on whether many of the appellants that show up are there to argue with the same appraiser as you are, as the county appraisers work specific geographic areas. I have gone in there at 12pm for hearings that start at 1pm and didn't get out until 3pm.
The DeKalb County tax assessment office should change the way they operate. They spend way too much time working appeals at the Tax Assessor level before sending them on to the BOE. If the appellant doesn't supply supporting information with their appeal, and I often don't, then the appeal should be sent to the BOE without delay. This is what Cobb County does, and Gwinnett is quick to forward appeals to the BOE as well. Cobb and Gwinnett finished their 2011 appeals a long time ago. DeKalb continues to plod along at a snails pace.